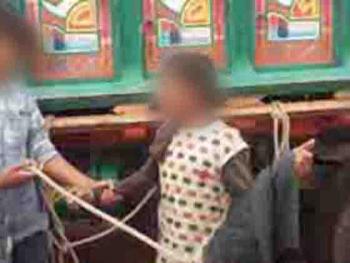 Sagarika Mondal :
Stopping kanya Shishu Violence . Statistics show that there are so many action plan laws in the government, violent incidents are happening to the kanya Shishu constantly. On average, two rape, molestation, eve-teasing, on average, made the parents anxious.
Why is the government even after trying hard? Brigadier General (retd) MA Sabur, the chief adviser to the kanya Shishu foundation, said that this may have happened due to the lack of positive attitude of the kanya Shishu . According to him, Always say yes to the kanya Shishu.
but why ? Napoleon Bonaparte said, "Give me an educated mother. I will give a educated nation. There is a proverb in Christianity, God do not know anything, so much creative mothers. Ganesha, Goddess of Hinduism, said a little further, Maa is my Brahman. Through the Prophet Muhammad
(sha:), Allah Ta'ala gave Mother three times more than his father. Mother gave her child's paradise under the feet.
World famous philosopher Aristotle said, Mothers and Founders Dan Fathers of their Children, because they are More certain they are there Owen. Such well-known philosopher-savvy people respected mother's superiority. Sri Ram, Sri Krishna, Buddha, Jesus, and the Wonders have illuminated the world by taking birth from the mother's womb. This mother has to be small to bigger
Mother and childhood. Then, after passing through the kaisar, there came to be the mother and had to be 'mother. Mao was the daughter, the daughter was a child. In order to truly make a girl child, she should do everything necessary to develop her social environment, her education, culture and self-respect as she wants to grow up to become a mother of a pregnant mother. And to do this, please tell the child in the opposite direction.
After the germination, after drinking a little water, organic food and every day, he gradually grew up. Then, as a result of the inflorescence of the type of flowers, so if a girl gets a child from her childhood, she will become a well-educated beautiful mother if her family poses positive. This mother will give a beautiful nation.
Is it really the situation of the daughters of the girl is such a good? The reality is not the same. Every day violent incidents of girl child are happening. Everybody is being victimized by upper-middle, middle-class, low-income, and pedestrians; torture, sexual assault, molestation Trafficking of goods is happening, daughters are killed in child killings. Even if the girl child is not born, then the girl child is being killed for the sake of being killed.
Many daughters feel insecure everywhere outside the house. From this childhood, the negative attitude towards the people, society, and environment in their minds is developed. A big obstacle to getting a healthy voracious beautiful mother.
Use all the pseudo names, say the 12 year old Lamia of Mirpur. After two months he did not cut The man is afraid of seeing the man, even the father. An elderly grandfather of her neighbor raped her. What is it to do on the child's mind? Kaliakoir release is not only rape but has been killed in the clutches. His college and work-colleagues are still not able to be normal, they are returning home after fear. The six-year-old daughter of Khorshed Alam of Begun village of Joypurhat is still suffering from pain. She does not understand what she is raping. But the pain always hurt him. Nargis Akter of Shantinagar of Sherpur, Bogra, who is suffering from physical torture while working in another house in Bogra, will dry up, but the stain will remain untouched. Amena remembers everyone. The 10 year old poor girl was a domestic worker in the capital. She had been lying on a railway station with blood stains on her back. What would be the picture of any of these people who would send their daughter to a child as a child and work girl? In Alamkathi of Pirojpur, some students of Pallimangal Secondary School were stopped by the euphoria of the teachers. Thousands of such children sow horror seeds fearing torture events. Which spreads into the minds of all the other girls in the society.
According to the Children's Rights Forum, from January to August this year 294 rape children and 46 children were gang raped. Of these, 24 children are disabled. According to the calculation, on average, almost two children are being raped somewhere or anywhere. From this statistics, it is understandable how horrific the child rape took place. This is happening with, cheating and molestation events.
A reviewed statistics of the forum said that in 2016, 3589 children were victims of various types of violence and torture. Of these, 1441 were killed, 205 victims of assault, 686 victims of sexual assault, kidnapping, 445 children missing and rescued, 398 victims of torture violence and 414 others.
According to a BBC report, 80 cases of child rape took place in the country in the last 7 months. There were 170 in 2016. It was 521 in 2015. There were 199 cases of rape in 2014. There were 170 cases in 2013 and 86 children raped in 2012. The incidents of gang rape and rape attempt are also increasing. Extremely rampant rape and rape after the assassination of the girl children
The Bangladesh Women's Association held 265 courts in the country. In order to increase the social security of children. The organization has also launched a public awareness campaign for the girls not to be victimized for trafficking.
The social welfare, intolerance, the lack of sensitivity to women and children, and the scarcity of judicial system, has increased the mentality of raping, hitting or killing children brutally, the working women organization said.
Sociologist Mahbuba Nasrin says that the culture of tyranny is working behind such incidents.
Human Rights Commission Chairman Kazi Riazul Haque said, we must build social movements to stop child abuse and violence and establish child rights.
Child rights activists have said that the Women and Children Repression Prevention Act says that the process of proceeding will be completed within 180 days. But there are many instances that the case has been going on for years. They are also urged to speed up the trial process against child abuse.
Attorney General Mahbubey Alam, the Chief Law Officer of the country, said that frustration has increased due to long-standing trial. But the lack of judges is also a big crisis. He also said that the defense law should change the mentality of hanging the case.
Social workers say that in reality we need to change our mentality and the negative social conditions. To create a positive environment for the children. If we want a beautiful world, a brilliant nation, if we want a future, then there will be an opportunity for the girl child to be safe and secure.